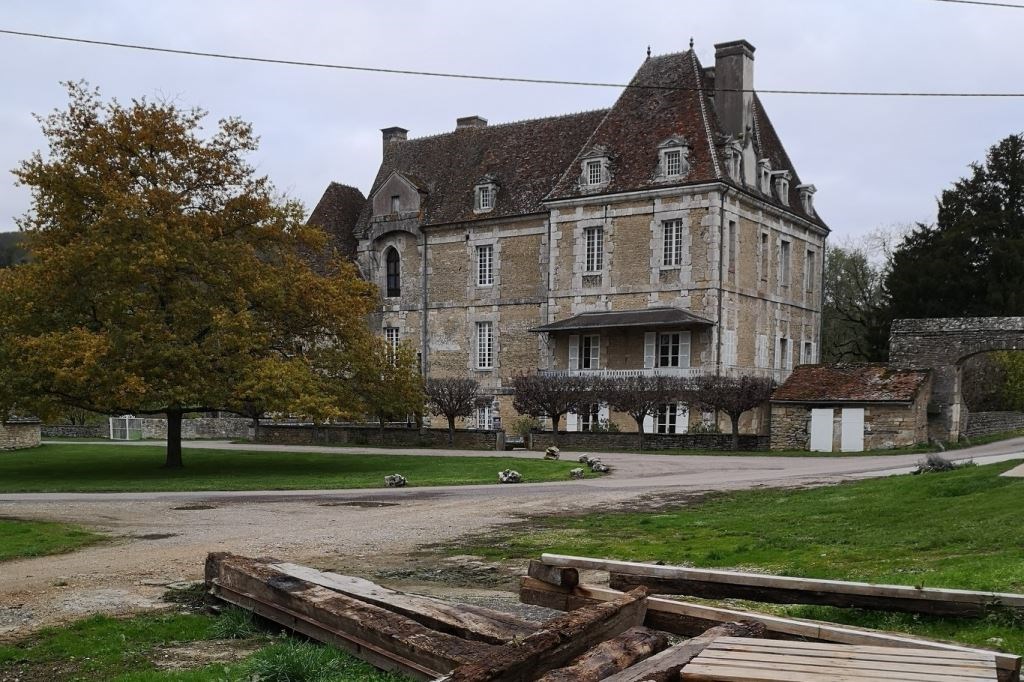 [Château de Chamilly]
Wow, having lunched well yesterday we dined better yet, in a new place not far from the hotel on the Rue Maufoux called…Maufoux. In a town in which it is increasingly hard to find a good, well-priced wine list, Maufoux is a breath of fresh air. Not only is the food exceptionally good, the wine selection is extensive and tickets entirely reasonable. We both ordered the snails in mushroom sauce to start, which was the sort of dish a woodland sprite would enjoy on a particularly special occasion and I followed it with a superb plate of veal sweetbreads. And I couldn't ignore Raveneau's 2014 Chablis at €40 a bottle. I am ashamed to say I have quite forgotten the red that followed.
I woke somewhat creakily at 6 o'clock this morning and enjoyed a bleary-eyed breakfast with Tasting Buddy before meeting our host for the day: an Englishwoman who represents a slew of really superior Burgundian domaines, some of which we are fortunate to be offered.
The tasting day started in the Cote de Nuits and then headed south for sampling sessions in Puligny, Maranges and the Cote Chalonnaise before a last rendezvous in Pernand.
Domaine Pascal
Highlights (of which there were many) were the white wines of Alexandra Pascal in Puligny-Montrachet. I am stuck on these wines and I will tell you why. Alexandra doesn't follow the crowd in making the sort of white-burgundy-by-numbers that one finds emanating from so many – even quite celebrated – estates in the region: those whites that offer correct levels of fruit, oak and minerality in appropriate balance, yet little in the way of real interest. Alexandra's wines are full-flavoured, yet loaded with vineyard character, with the oak dialled so far down as to be nigh-on invisible. They are also thoroughly delicious and good value to boot. Why wouldn't one develop something of a pash for such liquids?!?
Domaine Bachelet-Monnot
From Puligny we drove south into what is quite the prettiest bit of the Cote d'Or – the slopes of Maranges – where we sat down with Marc Bachelet of Bachelet-Monnot to see what he had made of his 2018 fruit. Marc had been at the Paulee de Meursault the previous evening and, to be fair, was looking a tad peaky, but became fully animated when speaking about the vintage and pouring the wines.
Have I mentioned that I adore the wines of Bachelet-Monnot? Have I ever suggested that the wines possess all the expressive transparency of Riesling and are utterly thrilling to taste and drink? Yes, of course I have. You're sick of hearing it, perhaps. Just buy some of their wines and find out what I am on about. Even their Bourgogne Blanc sets one's senses alight with its extraordinary precision and class. Just… just buy them is all.
We headed yet further south out of the Cote d'Or completely and into the Chalonnaise. In reality, it is a landscape rather more interesting to look at than the more "senior", unbroken swath of vineyard that is the Cotes de Beaune and Nuits: more complex vistas of small valleys and bluffs appear around every corner, along with ancient chateaux and intimate little villages.
Château de Chamilly
It was an ancient chateau outside which we pulled up, its venerability belied by the youth of its occupants: brothers Arnaud and Xavier (I regret to say I have yet to learn their surname) have been steadily building the wine business of the Château de Chamilly for some fifteen years, their family having lived in this extraordinary structure since at least the 16th century.
The extremely amicable Arnaud showed us 'round and poured us the wines… and what wines they are. I just wish I had had the presence of mind to buy vineyard land in the Cote Chalonnaise ten years ago. They are now being exploited to make wonderful, extremely tasty red and white burgundies that offer exceptional value. The future of the Château de Chamilly is assured, as both Arnaud and Xavier are evidently more than up to the task of the continuing development and modernising going on here.
Domaine Remi Rollin
I hate being late. It is rude and disrespectful and I hate it. Yet we were forty minutes late for our appointment at the Domaine Remi Rollin in Pernand and I was effusive in my apologies. Tasting in Burgundy makes time-keeping a tricky thing. One cannot really ask someone pouring their wines to get a chivvy on. One simply has to try to move at a suitable pace and be circumspect about asking too many questions should timing become an issue. Well, the afternoon, we rather blew it and the tasting in Pernand was a slightly breathless affair.
This was, not least, because the wines left us sighing with pleasure. Another unqualified success here, with both reds and whites offering massive levels of pleasure. The Corton Charlemagne was managing to be both wildly "come hither" and extremely cerebrally stimulating at the same time: a very cleaver trick. And yet another delicious visit.
Waistlines
We are due out for dinner any moment. Must factor in some salad soon…