2017 Burgundy Reviews by Bill Nanson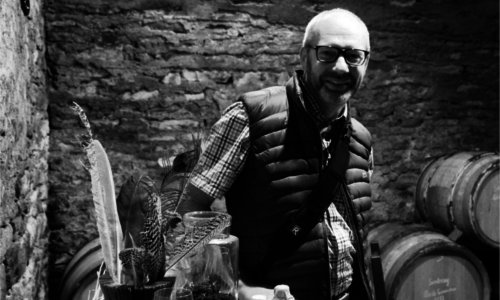 Bill Nanson's Burgundy Report is an increasingly respected source of opinion on the wines of the region. I had lunch in Burgundy with Bill a couple of years ago at that most amenable of eateries: the sports centre in Gevrey. For some reason I was expecting Bill to speak with something of a New World brogue, whereas the reality is that he talks with a broad Yorkshire accent. He has become one of the major commentators on Burgundy wine, red and white.
Bill has been gradually publishing his reviews of 2017 burgundies. I thought I would share with you his opinions on some of the wines we offered and which are still available (albeit, some, in very small quantities):
Mark Haisma
2017 St.Romain Blanc, Mark Haisma
"Hmm, there's depth to this very pretty yellow citrus fruit. A hit of freshness, then melting acidulated fruit, spreading out over the palate. A rush – a super wine – bravo!"

2017 Volnay Paux Bois, Mark Haisma
"Plenty of colour. Ooh, that's both deep and fresh, beautifully attractive fruit – a really great nose. Quite full, but open, a small touch of tannin, but pure fruit – gorgeous long finishing fruit – bravo!"

2017 Morey St Denis 1er Cru Les Chaffots, Mark Haisma
"Just a touch more colour, not much. Completely different fruit profile, darker, tighter clusters of fruit. Fresh, lithe, a wine of direction and slowly melting flavour – widening over the palate. Juicy finishing. Here with a slightly fumé tannin. Lovely wine – Plenty of whole cluster here, but hardly visible today…"

2017 Chambolle Musigny 1er Cru Les Feusselottes, Mark Haisma
"Again a very slight touch more of colour. A big punch of aroma – some whole cluster here – a great complexity of aroma. Penetrating volume, yet a round wine, complexity in all directions – aromatic on the palate too. Just a tiny touch of finishing tannin – what a great wine!"
Michel Lafarge
2017 Bourgogne Aligoté Raisins Dorés, Michel Lafarge
"Hmm, deep almost a hint of petrol to this wine – very inviting. Supple, layered, just enough energy to avoid being too composed. Very tasty…"

2017 Bourgogne Passetoutgrains l'Exception, Michel Lafarge
"A bright, floral and fresh nose. Like-wise on the palate, melting, mouth-watering fresh, direct flavour – excellent flavour, a beauty."

2017 Volnay Vendanges Sélectionées, Michel Lafarge
"Very pure red fruit of freshness and some line. Good volume, not more flavour than the last wine but more melting, fine mouth-watering flavour."

2017 Fleurie, Lafarge Vial
"Hmm, less colour. A nose that's so fine and elegant. Hmm, layered, opening wider and wider, a touch of tannin. Not full power, but full elegance. Bravo!"

2017 Fleurie Clos Vernay, Lafarge Vial
"Not super wide, but a nose of much interest. Hmm, depth, energy, more mid-palate intensity, and ooh lots of energy and mega interest – bravo!"
Vincent Dampt
2017 Chablis 1er Cru Côte de Lechet, Vincent Dampt
"A fine nose – open and wide but more guarded below. Ooh that's big – lots of volume, juicily mouth-watering, layers too – a wine that's got everything – except calmness I suppose! Big in the finish – ripe but fresh. Ooh that's good."

And a few notes from other observers:
Bachelet-Monnot
2017 Bourgogne Blanc, Bachelet Monnot
"The 2017 Bourgogne Blanc offers up aromas of lemon oil, pastry cream, crisp green apple and beeswax, followed by a medium-bodied, succulent and open-knit palate, concluding with a delicately chalky finish. It's a good introduction to the domaine's wines." William Kelley

2017 Maranges 1er Cru La Fussière Blanc, Bachelet Monnot
"Aromas of green orchard fruit, honeycomb, citrus oil and oatmeal introduce the 2017 Maranges 1er Cru La Fussière Blanc, a medium to full-bodied, satiny-textured but tensile wine with good mid-palate amplitude, bright acids and a long, saline finish. This is an excellent white Maranges that will drink well on release and likely represent superb value." William Kelley

2017 Puligny Montrachet, Bachelet Monnot
"Quite a lot of floral fragrance and lovely white fruit too. Strong saline stony character on the finish – very concentrated and lengthy, with archetypical nervy acidity." Richard Hemming MW

2017 Maranges 1er Cru La Fussière Rouge, Bachelet Monnot
"Notions of ripe plums, berries, loamy soil and licorice introduce the 2017 Maranges 1er Cru La Fussière, a medium to full-bodied, velvety wine with rich structuring tannins, a succulent core of fruit and juicy balancing acids. Pure and long on the finish, this hails from soils richer in clay and correspondingly more gourmand than the Clos de la Boutière." William Kelley

2017 Maranges 1er Cru Clos de la Boutière Rouge, Bachelet Monnot
"The 2017 Maranges 1er Cru Clos de la Boutière reveals an appealing bouquet of cherries, candied peel, rich soil tones and a light touch of oak. On the palate, it's medium to full-bodied, deep and tensile, with a chalkier, tighter-knit profile than the more gourmand Fussière, with tangy acids and good length on the finish." William Kelley

[Mr Kelley has, I think, transposed his notes, since it is the Boutière that comes from the more clay-rich soils, whilst the Fussière soils are more limestone...]