2017 Vintage from Château de Beaucastel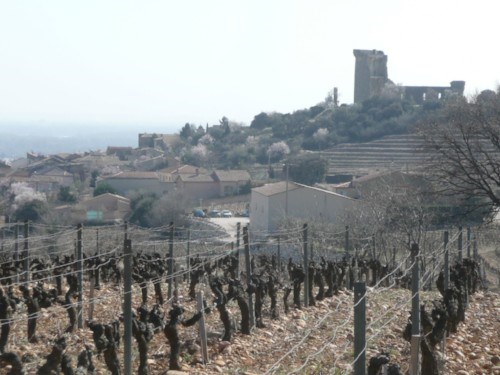 I journeyed to London the other day for the annual tasting of the new vintage from Château de Beaucastel and the Famille Perrin, under which latter label Beaucastel's owners market their negociant range, many of which are superb.
The 2017 vintage
This year was the turn of the 2017 vintage and I have to say there was a great deal to like. As last year the wines from Vinsobres - that erstwhile Côtes du Rhône village, now with its own AC - were entrancing, showing the airiness and elegance of their lofty vineyards. And the Châteauneuf wines were simply fabulous, along with the Coudoulet wines from just across the Châteauneuf boundary fence.
The wines
2017 Vinsobres, Les Cornuds, Famille Perrin
£93 in bond a dozen Drink 2019-23
To smell, this seems a touch closed at the moment. But the palate exhibits instant freshness, is rich and firm and shows very nicely pure fruit. This is a direct and really mineral wine, long with inbuilt, fresh structure. It finishes fabulously full and busy. As last year, this is a delight.

"...ample concentration, supple tannins and a finish that boasts hints of violets and dried spices. 90-92/100." Joe Czerwinski

2017 Vinsobres Les Hauts de Julien, Famille Perrin
£114 in bond per 6 Drink 2021-30
This is a superb colour in the glass. And the nose gives off a rich, chestnut-dark plum fruit of really good purity and definition. The palate kicks off with a pure and silky entry and then the lovely dark fruit asserts itself. In the mid-palate I found a burst of menthol. This is a very long and meaty wine; busy, complete and nicely complex. There's a sophisticated salinity to the minerality here. Very long thing and a fabulous one.

"There are only 5,000 bottles of this full-bodied, richly textured wine for the world, so fans will have to move fast...94-96/100." Joe Czerwinski

2017 Châteauneuf-du-Pape Blanc Les Sinards, Famille Perrin
£228 in bond a dozen Drink 2019-27
The nose here is almond scented and touched by spice, majoring on deliciously ripe pear fruit. Fruit is plush in the mouth, quite rich and peary, then a mineral freshness appears and swells into great, incisive grip. Very long, this. Very long and rather fabulous.

"The palate is full, on dried fruits, carries spice into the closing moments, where there is a note of glow..." John Livingstone-Learmonth

2017 Coudoulet de Beaucastel, Château de Beaucastel
£144 in bond a dozen Drink 2019-28
There's a pleasing earthiness to the dark fruit aromas here, with aromas of bramble and dark plum meeting a southern herbal scent. The palate is nutty in its structure, yet with delicious fluidity to its fruit. Shape is wonderfully consistent throughout and a fresh minerality maintains one's interest. This is really superb Coudoulet.

"This has better balance and tuning than many 2017 Châteauneuf reds." John Livingstone-Learmonth

2017 Châteauneuf-du-Pape, Château de Beaucastel
£249 in bond per 6 Drink 2021-35
There's a liquorice rootiness about this nose which is otherwise a touch closed in...although I can clearly make out the elevated Mourvèdre component in the nutty scent. This is a rich wine of nicely fresh tannic structure. A long and really pretty direct thing in the mouth, with high and incisive grip. It's a very mineral wine at the death. A wine of real presence and freshness. And a wine that will be a stunner given a few years in bottle.

"It's rich and concentrated yet silky and lithe, with a fantastically long, elegant finish. 95-97/100." Joe Czerwinski
To order any of these wines, please click on the wine names to be taken to the wine; you can then add it to your basket.