Last night's Summer Party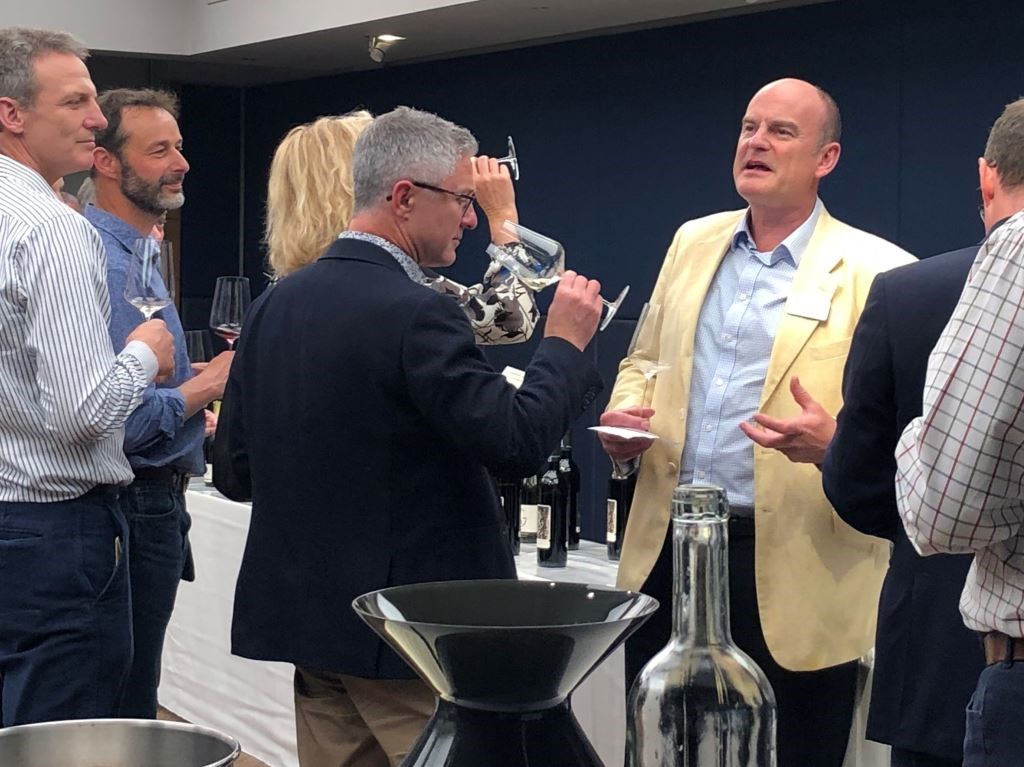 Pre-match nerves
When hosting a wine tasting the run-up to the event can be a fractious time. One is never 100% sure that a) wines will all have arrived, b) the wines will be in a happy place and showing at their best and c) whether the assembled throng will be receptive to said wines and, indeed, one another.

In the case of our Summer Party, held last evening in the St James's Room at 67 Pall Mall, all concerns were rapidly alleviated. I tasted through all the wines in the 45 minutes or so before opening time and was thrilled that all bottles were wearing their hearts on their sleeves, bright and bountiful.
Highlights of the evening
There were so many standouts that it is hard to list them all but here are a few.
Assyrtiko
Assyrtiko asserted itself and reminded us why everyone is currently singing its praises with no little vigour.
Burgundy
Two Burgundy estates from the lesser-known end of the spectrum – Jean Pascal in Puligny-Montrachet and Odoul-Coquard in Morey St Denis – reminded us why we are extremely glad to be supporting them and offering their wines to our clients.
"Not Burgundy"
Wines from our recent "Not Burgundy" offer were cause for real excitement, not least the Etna pair of the 2015 harvest from the Santa Maria La Nave estate: the white Millesulmare from the Grecanica Dorato grape and the Calmarossa from Nerello Mascalese. The 2016 Corinto from the Sicilian Aeolian Islands also won a great many friends…once we'd succeeded in persuading tasters to overlook the frankly dreadful packaging. The white Le Soula was as brilliant as ever.
Champagne Larnaudie-Hirault
We'd decided to show the full range of our house champagne, Larnaudie-Hirault: Brut, Blanc de Noirs and Rosé. These are stunning champagnes offering superb value (and the Brut is now available in cases of half bottles and magnums). They were well taken up!
The Daily Drinker
And there were fine showings from our Daily Drinker selections of more everyday wines, with unusual - even rare - varieties from Romania and Italy.

With lots more besides, variety was the order of the evening. I suspect there were some rather tender crania this morning!
Wishing everyone a restful and recuperative weekend... Caspar
The full list of wines
If you came last night and want a reminder of what you tasted, or if you were unable to make it and want to know what you missed, below is the full list of wines.
All are available to buy from The Daily Drinker website or from the Bowes Wine website, respectively. Alternatively, please feel free to email Caspar.
2017 Bellone Bianco, Casale Giglio
-
£13/ btl dp inc VAT
Lazio local, often blended. Shame.
2016 Cesanese Rosso, Casale Giglio -
£13.50/ btl dp inc VAT
A classic Daily Drinker red: arcane but delicious!
Bowes Wine
2016 Bourgogne Blanc Joseph, Jean Pascal, France
- £120/12 ib
Fabulous under-the-radar producer in Puligny.
2016 Bourgogne Chardonnay, Bachelet-Monnot, France
-
£162/12 ib
Electric Chardonnay from the genius Bachelet brothers.
2016 Chablis 1er Cru Vaillons, Vincent Dampt, France -
£240/12 ib
The best of the Dampt family, in our opinion. Left Bank Chablis.
2014 Puligny-Montrachet 1er Cru Hameau de Blagny, Pascal
-
£390/12 ib
Great value from this lesser-known Puligny domaine.
2013 Furmint Stone Wine, Balla Geza, Romania
–
£57/6 ib
Mature Furmint proving its credentials as a top white variety.
2017 Assyrtiko 34, Karamolegos, Greece
–
£126/6 ib
The top wine in a recent Decanter Mag Assyrtiko tasting…
2015 Millesulmare, Santa Maria La Nave, Italy
–
£201/6 ib
This is made from a clone of the Garganega grape of Soave. Amazing.
2014 Le Soula Blanc, Vin de Pays des Côtes Catalanes, France -
£252/12 ib
Like a cross between a white Rhône and a top Meursault. Fabulous.
2016 Bourgogne Rouge, Odoul-Coquard, France
–
£150/12 ib
We like to champion emerging producers like Sébastien Odoul.
2015 Bourgogne Passetoutgrains L'Exception, Michel Lafarge
–
£90/6 ib
Perhaps as good a Gamay/Pinot blend as one can find.
2009 Pernand-Vergelesses 1er Cru lle de Vergelesses, Rollin –
N/A
*2017 vintage available £165/6 ib
A long love affair with the wines of the highly personable M Rollin.
2013 Clos de Vougeot Grand Cru, Francois Lamarche, France –
N/A
*2011, 2012, 2014, 2015, 2017 available on website
Grand Cru burgundy from a woefully over-looked vintage.
2015 Calmarossa, Etna Rosso, Santa Maria La Nave, Italy
–
£201/6 ib
The brilliance of the Nerello Mascalese grape on the slopes of Etna.
2016 Corinto, Tenuta di Castellaro, Italy
–
£155/6 ib
Variety only grown in the beautiful, volcanic Eeolian Islands off Sicily.
2016 Les Terrasses Rouge, Château Pesquié, France
–
£108/12 ib
Super value from this noted southern Rhône estate.
2015 Garmon, Ribera del Duero, Spain –
£171/6 ib
New venture from Mariano Garcia, erstwhile wine maker at Vega Sicilia.